Shopping at QAGOMA.STORE

The Queensland Art Gallery (QAG) and the Gallery of Modern Art (GOMA) are located at South Bank, and sit 150 meters apart in the Queensland Cultural Centre.
There are three on-site QAGOMA Stores each with their own unique range of products and publications. In addition, our online store stocks a large selection of books, homewares and accessories with orders shipped daily.

The QAGOMA Stores are Dealer Members of the Indigenous Art Code, committed to ensuring ethical practices and fair treatment of artists. 
Stay up-to-date with special offers, sales and new products by following us on instagram or signing up to Storemail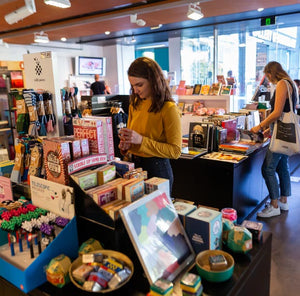 GOMA Store
This striking store, located at the entrance to GOMA, specialises in books on today's most exciting, challenging and influential contemporary artists and designers. A sophisticated selection of design objects, contemporary jewellery, world-renowned fragrances, art merchandise and giftwares make this Store a must-visit. The GOMA Store is popular with families for it's  large selection of Kids books and products – inspiring creative living for all ages. 
OPENING HOURS
10am - 5pm daily.
ph: (07) 3842 9900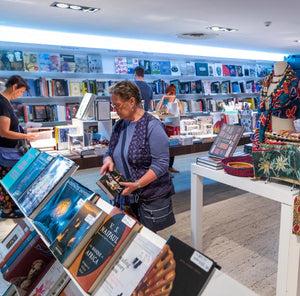 QAG Store
The QAG Store is home to some of the world's finest publications on art and culture, with a particular focus on books related to Australian and Indigenous art, Design and Interiors and Contemporary Botanicals. The Store also specialises in some of the world's leading stationery and paper products brands including Moleskine, Paperblanks, Claire Fontaine, and Lamy.  
OPENING HOURS
10am - 5pm daily.
ph: (07) 3840 7290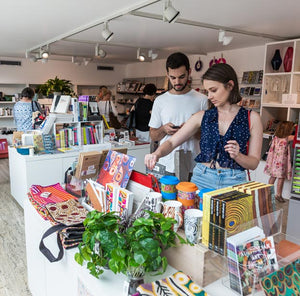 Artists & Writers Store
The second QAG Store is located at the Stanley Place entrance and features books and products from leading Australian and First Nations artists and makers. Shop here for the best locally made items including jewellery, ceramics, textiles and delicious food products. Featured brands include Better World Arts, Town Camp Designs, Tjanpi Desert Weavers, Mabu Mabu, Native Oz Bushfoods, Fink and Earth Greetings.
OPENING HOURS
10am - 5pm daily.
ph: (07) 3840 7667