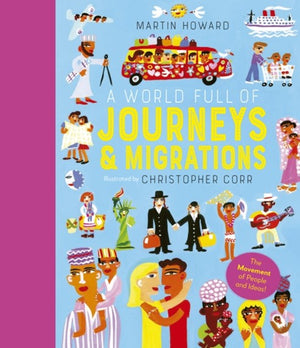 World Full Of Journeys
$16.00
Description

A World Full of Journeys is a richly illustrated introduction to the history of human migration. From the first people to leave Africa and travel across the world, right up to the journeys of today, this book will teach readers that every single journey has the capacity to change the world. Informative and warm text from Martin Howard accompanied by beautiful artwork by Christopher Corr makes for an immersive reading experience.

Why do people migrate? Who were the first travellers in history? And where will we humans travel to next?

Since the dawn of time, people have travelled to distant lands for many different reasons; to escape war famine or injustice, to find work, or to simply see new sights and have an adventure. But everyone who migrates does it to seek a brighter future. A World Full of Journeys tells some of the most fascinating stories of migration throughout history. From the very first humans who left Africa almost 70,000 years ago and moved around the world, to immigrants welcomed to America at Ellis Island, this book is packed with fascinating tales of human triumph. With chapters including Africa, Oceania, Europe and the Americas, this book looks all across the world to tell the full story of our journeys throughout history. Youll discover that every single journey has the capacity to change the world.

The World Full of... series is a collection of beautiful hardback story treasuries. Discover folktales from all around the world or be introduced to some of the world's best-loved writers with these stunning gift books, the perfection addition to any child's library.
Delivery

Within Australia
$10 flat rate within Queensland
$15 flat rate rest of Australia
Add $5 for express shipping anywhere in Australia
Free shipping for orders over $250

International
New Zealand – Flat rate $30
Oceania & South East Asia – Flat rate $35
Rest of the World – Flat rate $45