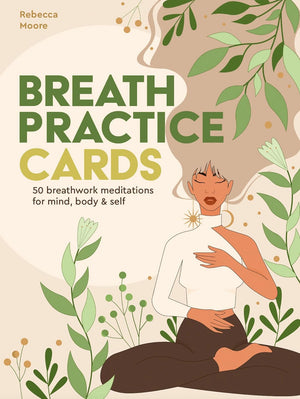 Breath Practice Cards
By Rebecca Moore
$19.00
Description

Reap the mental and physical benefits of breathwork with this essential toolkit, complete with 50 vibrantly illustrated breath-exercise cards and a 64-page guidebook.

Breath Practice Cards provide an uplifting, screen-free introduction to breathwork with simple and easy-to-follow exercises and meditations beautifully and accessibly presented on individual cards. In the accompanying book, explore the origins, science and benefits of this age-old method made popular by Wim Hof and find simple sequences to create your own mindful breathwork practice.

Each card, gorgeously illustrated with inspiring and inclusive artworks from @madebyralu, includes directions of how to practice a specific technique. The cards include exercises to:
 

Focus, including grounding and re-centering Humming Bee Breath and Box Breathing
Relax, including calming and restorative Hugging Break and Lunar Breathing
Elevate, including energising and uplifting Sunshine Breath and Heart-Smiling Breath
Release, including cleansing and clearing Roaring Lion's Breath and Open Ocean Breath
Connect, including harmonising and meditative Gratitude Breath and Chakra Balancing Breath


Pick a card when you wake up to energise or before you go to bed to unwind, or just throughout your day when you need a mindful moment.

Delivery

Within Australia
$10 flat rate within Queensland
$15 flat rate rest of Australia
Add $5 for express shipping anywhere in Australia
Free shipping for orders over $250

International
New Zealand – Flat rate $30
Oceania & South East Asia – Flat rate $35
Rest of the World – Flat rate $45