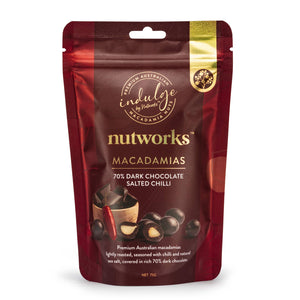 Dark Chocolate 70% & Salted Chilli Macadamias
By Nutworks
$8.00
Description

Salty, spicy and sweet... the Nutworks range combines complementary flavours with the creamy goodness of Australian macadamia nuts. Using premium macadamias only, these packs showcase the best of local flavours and will have you reaching for more in no time.

Size: 75g

The Nutworks journey began way back in 1993 when four Sunshine Coast macadamia growers joined forces to build a processing plant at Verrierdale in the Noosa Hinterland.
The processing plant allowed them to offer a better supply of hand-sorted raw kernels to local shop keepers who then roasted, flavoured and sold them to the public. They now process 5,000 tonne of macadamia nut, representing approximately 9% of the Australian crop, sourced from more than 80 Australian macadamia farms. With a strong focus on sustainability, they have developed processes to make use of every element of the macadamia nut, from shell to kernel, to the meal created in processing.  The Nutworks team works with our farmers to create the right environment for the native bees that pollinate the trees, and the biochar created by burning left over shell, put back into the soils to enrich and improve the land after each harvest.  

 
Delivery

Within Australia
$10 flat rate within Queensland
$15 flat rate rest of Australia
Add $5 for express shipping anywhere in Australia
Free shipping for orders over $250

International
New Zealand – Flat rate $30
Oceania & South East Asia – Flat rate $35
Rest of the World – Flat rate $45