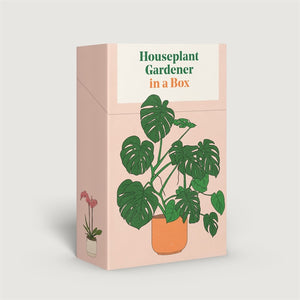 Houseplant Gardener in a Box
By Jane Perrone
$22.00
Description

Watch your home come to life with flowers and foliage, thanks to expert advice from the Houseplant Gardener.

What sort of plants love a bathroom? How can you bring an orchid back into flower? What needs regular watering, and what doesn't mind if you forget? What can you put on a sunny windowsill, and what will send foliage tumbling attractively from a shelf?

Author, journalist, podcaster, and now houseplant-gardener-in-a-box, Jane Perrone answers all these questions and hundreds more. Drawing on years of experience and research, her cards provide sensible, practical and inspiring advice. The accompanying book will guide you through the process of selecting plants, and Cody Bond's beautiful illustrations will inspire you along the way.
Delivery

Within Australia
$10 flat rate within Queensland
$15 flat rate rest of Australia
Add $5 for express shipping anywhere in Australia
Free shipping for orders over $250

International
New Zealand – Flat rate $30
Oceania & South East Asia – Flat rate $35
Rest of the World – Flat rate $45