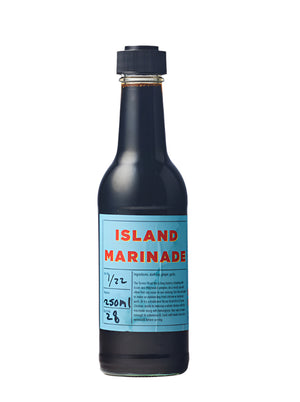 Description

Island Marinade 250ml - The Torres Strait has a long history of trading with Asian and Polynesian peoples. As a result, you will often find soy sauce in our cooking. Use this marinade to make an outstanding fried chicken or barbecue pork (dark soy, ginger, garlic).

Mabu Mabu's range of pantry items is titled 'Kara Meta.' In the language of the Meriam People of Mer Island in the Torres Strait, this means 'my home.' Their small batch teas, spices, and sauces with Indigenous and tropical flavours are all made by hand and sourced from suppliers who are passionate about Australia's Indigenous food industry.

Mabu Mabu is a saying in the Torres Strait that means 'help yourself.' It's what you say before you dig into a big meal with friends and family.

Nornie Bero is the head chef and business owner of Mabu Mabu. Originally from Mer Island in the Torres Strait, Nornie has been a professional chef for over 20 years. 
Nornie is on a mission to put Indigenous ingredients in kitchens across Australia. MAbu Mabu want people to be using, eating and celebrating Indigenous ingredients every day.
Delivery

Within Australia
$10 flat rate within Queensland
$15 flat rate rest of Australia
Add $5 for express shipping anywhere in Australia
Free shipping for orders over $250

International
New Zealand – Flat rate $30
Oceania & South East Asia – Flat rate $35
Rest of the World – Flat rate $45