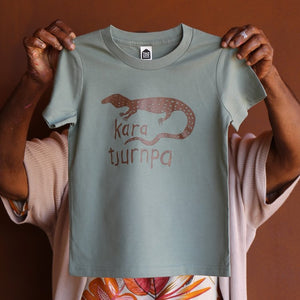 Kara Tjutnpa (Goanna) Kids T-Shirt
$24.00
Description

Design by Tim McNamara of Ewyenper Atwatye Artists.

'Kara' is meat and 'tjurnpa' is perentie in Western Aranda.

Tim says: We call every animal 'kara' if we don't know what it is yet when we see them hunting. Everyone calls out; 'kara, kara, kara, kara' to kangaroo and goanna'.Town Camp Designs is a collection of products created by Ewyenper Atwatye, Tangentyere Artists and Yarrenyty Arltere Artists. Town Camp Designs are a 100% Aboriginal owned and run art centre.

Delivery

Within Australia
$10 flat rate within Queensland
$15 flat rate rest of Australia
Add $5 for express shipping anywhere in Australia
Free shipping for orders over $250

International
New Zealand – Flat rate $30
Oceania & South East Asia – Flat rate $35
Rest of the World – Flat rate $45