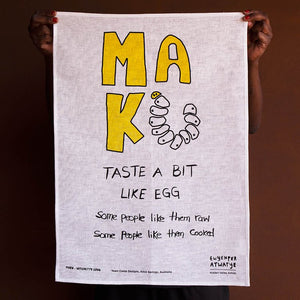 Maku Witchetty Grub Linen Tea Towel
$21.00
Description

Linen tea towel designed by Patricia Niel, Patricia Robinson, Tina Drover of Ewyenper Atwatye.

This design is part of the 'Urban Tucker' tea towel series, designs which depict popular food/drinks of Town Camp artists.

Material: 100 % Linen (50x70 cm)
Sourced from Linen Line Australia (QLD).
Screen Printed: QLD, Australia.



Town Camp Designs is a collection of products created by Ewyenper Atwatye, Tangentyere Artists and Yarrenyty Arltere Artists. Town Camp Designs are a 100% Aboriginal owned and run art centre.
Delivery

Within Australia
$10 flat rate within Queensland
$15 flat rate rest of Australia
Add $5 for express shipping anywhere in Australia
Free shipping for orders over $250

International
New Zealand – Flat rate $30
Oceania & South East Asia – Flat rate $35
Rest of the World – Flat rate $45