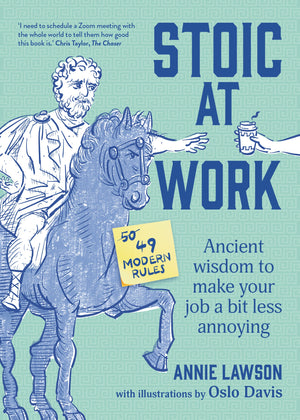 Stoic at Work
$15.00 Sold Out
Description

Ancient Wisdom to Make Your Job a Bit Less Annoying.

A sharply observed workplace survival guide that spins 49 entertaining modern rules from the wisdom of Roman emperor Marcus Aurelius.

Marcus Aurelius's timeless insights into human behaviour show that 2000 years on, not much has changed in the workplace and we could all do well if we focus on what we can control and worry less about things we can't.

As head of the Roman empire, he encountered his fair share of difficult people, frustrating situations and political infighting. In his Stoic philosophy bible, Meditations, Marcus Aurelius encouraged us to accept other people's inevitable shortcomings, make the most of our short life, resist the temptations of fame and flattery and, when things get too much, take a cosmic perspective of our existence.

Stoic at Work is for anyone with a job, applying ancient wisdom to the modern workplace set out in 49 rules, such as: think less; suck up but don't suck up; avoid irrelevant meetings; and remind yourself that work happiness sits somewhere on the spectrum between fear and boredom. These will help you manage the mind games, the meltdowns and the numbing reality that most of us must work until we die, transforming your experience of work from a place of irritation to a place of joy. Or one that is a bit more tolerable, at least.
Delivery

Within Australia
$10 flat rate within Queensland
$15 flat rate rest of Australia
Add $5 for express shipping anywhere in Australia
Free shipping for orders over $250

International
New Zealand – Flat rate $30
Oceania & South East Asia – Flat rate $35
Rest of the World – Flat rate $45