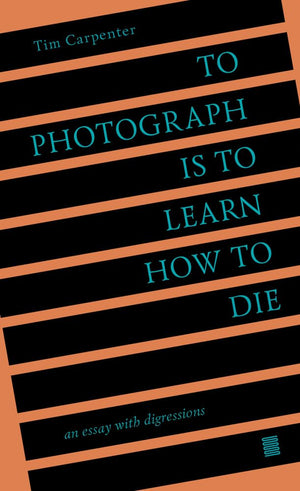 To Photograph Is to Learn How to Die: An Essay with Digressions
$28.00
Description

A book-length essay about photography's unique ability to ease the ache of human mortality

Drawing on the writings of Wallace Stevens, Marilynne Robinson and other poets, artists, musicians and thinkers, Brooklyn-based photographer Tim Carpenter (born 1968) argues passionately--in one main essay and a series of lively digressions--that photography is unique among the arts in its capacity for easing the fundamental ache of our mortality; for managing the breach that separates the self from all that is not the self; for enriching one's sense of freedom and personhood; and for cultivating meaning in an otherwise meaningless reality.
Printed in three colors that reflect the various "voices" of the book, the text design follows several channels of thought, inviting various approaches to reading. A unique and instructive contribution to the literature on photography, Carpenter's research offers both a timely polemic and a timeless resource for those who use a camera.
Delivery

Within Australia
$10 flat rate within Queensland
$15 flat rate rest of Australia
Add $5 for express shipping anywhere in Australia
Free shipping for orders over $250

International
New Zealand – Flat rate $30
Oceania & South East Asia – Flat rate $35
Rest of the World – Flat rate $45