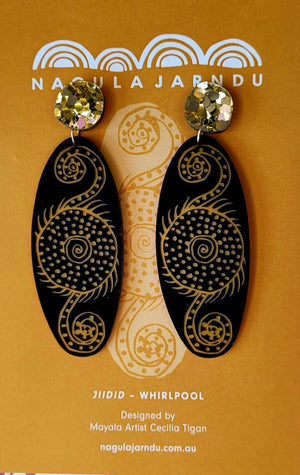 Whirlpool "Jiidid" Earrings - Black
$30.00
Description

Jiidid (whirlpool) design by Mayala artist Cecilia Tigan.
Cecilia comes from Djarindjin up on the Dampier Peninsula 160kms north of Broome.
It is country surrounded by sea and this design tells the story of the 'jiidid' and the power and strength of the ocean on her country. The importance of carefully reading the massive tides that rip through and knowing when it is safe to go into the deep ocean or you get caught in a 'jiidid' and get spun from one to the next.

 NAGULA JARNDU WOMEN'S ART & RESOURCE CENTRE

Nagula Jarndu (Saltwater Woman) is a Not for Profit incorporated body with a membership of 120 Indigenous women and is governed by 7 Yawuru women Directors.
Yawuru Jarndu first started operating in 1987 when it was established as an Indigenous women's resource centre by Yawuru women, with the aim of recording oral history and preserving Yawuru language and culture.

The organisation evolved into an arts and textiles business, offering training in screen printing and dressmaking, producing fabrics for clothing and homewares, designed and made by local Indigenous artists. A retail outlet was established in 1998 called Nagula Jarndu Designs which proved a successful venture. Specialising in textiles, every piece of work is an original.
Delivery

Within Australia
$10 flat rate within Queensland
$15 flat rate rest of Australia
Add $5 for express shipping anywhere in Australia
Free shipping for orders over $250

International
New Zealand – Flat rate $30
Oceania & South East Asia – Flat rate $35
Rest of the World – Flat rate $45