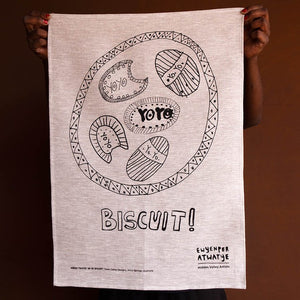 YoYo Biscuit Linen Tea Towel
$22.00
Description

Linen tea towel designed by Patricia Niel, Patricia Robinson, Tina Drover and Rosabella McMillan of Ewyenper Atwatye.

Yoyo's are a popular biscuit in Alice Springs.

Material: 100 % Linen (50x70 cm)
Sourced from Linen Line Australia (QLD).
Screen Printed: QLD, Australia.



Town Camp Designs is a collection of products created by Ewyenper Atwatye, Tangentyere Artists and Yarrenyty Arltere Artists. Town Camp Designs are a 100% Aboriginal owned and run art centre.
Delivery

Within Australia
$10 flat rate within Queensland
$15 flat rate rest of Australia
Add $5 for express shipping anywhere in Australia
Free shipping for orders over $250

International
New Zealand – Flat rate $30
Oceania & South East Asia – Flat rate $35
Rest of the World – Flat rate $45