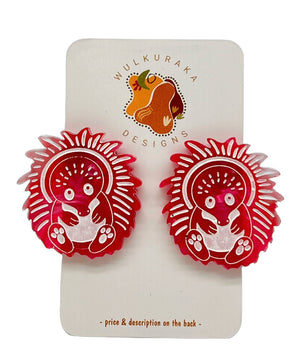 Echidna Dhantila Pink Earrings
$23.00
Description

Dhantila is the Kullilli word for Echidna.


These gorgeous earrings are based on the artist tribal connection to Queensland. Echidnas have a strong spiritual embodiment in our culture. They showcase on how delicate our lives are, yet they have a strength when honouring good values. Echidnas are well natured animals with spirits that have been apart of our Dreamtime since the beginning.

Measurements:
Whole earring - 4 x 3.5 cm


About Wulkuraka Designs 


Welcome to the vibrant world of Ailsa Walsh, an artist whose creative journey weaves together the rich tapestry of her Aboriginal heritage with a passion for artistic expression. Ailsa's unique artistic vision is a celebration of culture, identity, and the profound beauty of the natural world.

Through her captivating artwork, Ailsa deftly translates her stories, beliefs, and experiences into visual narratives. Her use of vibrant colors, intricate patterns, and evocative symbolism creates a synergy that draws the observer into a realm where culture and art intersect. Every stroke is an invitation to explore the nuances of Aboriginal history, spirituality, and the interconnectedness of all living things.

 
Delivery

Within Australia
$10 flat rate within Queensland
$15 flat rate rest of Australia
Add $5 for express shipping anywhere in Australia
Free shipping for orders over $250

International
New Zealand – Flat rate $30
Oceania & South East Asia – Flat rate $35
Rest of the World – Flat rate $45